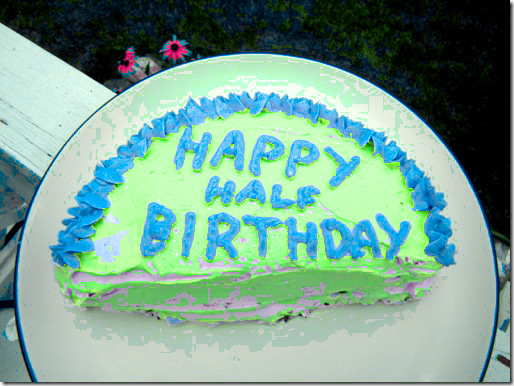 Six months ago, I started this site. It was a joke. My fiancé, agent CliffM, jokingly asked RedSoloCup, then the Ingress Global Community Manager if he was going to work on the global challenge at the time, and the GCM teased back that CliffM would be the Global Community Manager while RedSoloCup devoted time to glyphing, and said CliffM could be reached at nottheingressgcm@notnianticlabs.com. So, taking the bait, I bought this domain name, and put up a lasagna recipe.
And that was going to be it. A joke, and I'd move on with my life. I'd add a snarky post here or there, poke fun at the hamsters running the passcode servers, but I never expected to keep at this site for 6 months, let alone use it as a vehicle for real information. I'm not sure if the dozens of people who read this site are actually Ingress agents or if they are just misguided Pokemon Trainers still looking for a map, but either way I am grateful for those of you who visit and make me feel like I'm not just talking to myself.
Although this game had been a big part of my life for 5 years, It seemed my time in the game was coming to a close. I did not enjoy using Ingress Prime as it existed then. I felt I had spent too much time on this game anyway. About that time, when a friend suggested I apply to be a Vanguard, I refused, stating that "I've gone through various phases of being really invested in Ingress and being really down on it. I still have a few goals remaining, and may find new ones before I am ready to step aside entirely, but my heart just isn't in it like it used to be."
Basically, before this site, I was just about done with the game.
But then a few magical things happened:
The bugs in Prime that were hampering my enjoyment got fixed.
A new form of live event (Hexathlon) was introduced as a field test.
Global cooperative shards repaired some fractured cross-faction relationships.
The Tessellation launched to give more life to the storyline and give rise to global cooperation.
The 13 Archetypes decoding challenge has given many new agents an introduction to decoding.
Several global challenges, including one that is about to start to give new incentives for agents to get out and move.
This site, and those of you who read it, gave me a creative outlet and yet more reasons to focus on the fun parts of the game.
This is not to say that the last 6 months have been without missteps. Some decisions and changes Niantic has made in the last 6 months of the game have frustrated or concerned me. I won't enumerate all of them, but some of the decisions made in the name of "sustainability" have angered the playerbase, the suspension of the Trusted Reporter program without an immediate replacement made agents fear that cheating would spiral out of control, and the single site for Requiem globally without meaningful participation options for agents in other continents concerns me that some of the most active agents may be forced to miss their first anomaly series in years and may take that as a cue to retire entirely.
But all in all, I am much happier with Ingress now than I have been in years. The new formats of events have reinvigorated me. The bonds I have built with agents around the world over my many years of playing have grown stronger, while I continue to meet new agents. I continue to see new agents enter the game and join us at First Saturdays. If you had asked me in September 2017 right after I served as POC for 13 Magnus Reawakens, I would have told you "never" was too soon for another major Ingress event in Washington, DC, but I am really looking forward to working across factions to host the Lexicon Hexathlon here in April.
I'm sure my love for the game will continue to ebb and flow, but this game and the community of agents, continue to give me new incentives to play.
I will leave you with the lyrics of 80's One-Hit Wonder Matthew Wilder:
Ain't nothin' gonna break-a my stride
Nobody gonna slow me down, oh no
I got to keep on movin'
Agents, it's [still] time to move.
-Agent vidicon, aka "Not Ingress GCM," aka "that agent who doesn't know when to stop"